About Radiant Bunny
Radiant Bunny is dedicated to helping people grow food using inquiring systems theory and the permaculture design method.
A few years ago I studied inquiring systems theory and what I call "the perspective of the whole" was an important lesson that kept appearing in the literature of my studies, most powerfully in the writings of C. West Churchman. [rabbit hole] This lesson (holism) impacted my thinking and the direction of my research. Little by little, I sense the interconnectedness of things.
One day after my studies were completed, I was outside and I moved a wheelbarrow to reveal, amongst the overgrown grass, a baby rabbit probably out of the hutch for the first time. As I gently placed the wheelbarrow back where I found it, I realized that that rabbit, the thick green grass, and I are part of a whole. In inquiring-systems-speak, you might say it was at this moment that I "swept-in" rabbits into my worldview. I had a new perspective. I regarded the rabbit as being a stakeholder.
Guided by a desire to understand the perspective of the whole, Radiant Bunny is an initiative to help people grow food. After a few years farming, I found myself focusing on how my field of study (inquiring systems theory) shared in common with the permaculture design method. So, the service that Radiant Bunny provides is to help people grow food using the tools of inquiring systems theory and process of the permaculture design method. The Radiant Bunny Mission Statement describes this vision further.
As the initiative proceeds, the "radiant bunny" story is a reminder that we are all interconnected. We are all one, an interconnected system. The Radiant Bunny is my spirit guide and I am assuming now that others have had similar experiences with the parts of nature that they come across. This feeling of a profound connection with the life on this planet makes me smiles and grounds me. From this perspective, it is hopefully not too far too our main aim. The experiences so far has been that in the action of helping people grow food (by farming and gardening) greatly increases a sense of being connected to the life in our midst.
Radiant Bunny is a collaborative, a kind of design house for systems thinking. We are inquirers who sow seeds and turn compost. We strive to learn, gain knowledge, share knowledge, ponder, answer questions, ask new questions. All the while, we help people to grow edible plants and other types of food.
Caretaker of a Free Software Project
To help better understand the inquiry, an information system is developed as an artifact to use in the exploration of the theories in action. The information system has a digital components which may provide (net) guidance for our gardens.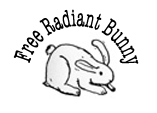 Our service is to tend a free software project, called Free Radiant Bunny. This free software project began as a community-supported agriculture information system. The design of the software began with the listing of plants to be grown.
Services Provided
Radiant Bunny provide services aimed at helping people to grow their own food. Our focus is upon inquiring systems theory and the permaculture design method. The software helps create a permaculture site analysis and assessment report. This report is in a website and printed form. The report contains a wide-range of perspectives, including the sun, water, soil, ethical, energy, and social.
Grounded Upon Inquiring Systems Theories
One form of the report is a website. There is a great deal to learn with an organic garden and a website dedicated to that purpose helps one to learn about the garden. My training is in management information systems and my view is that a website is a cost-effective way to document a project. A website allows for the information of the site analysis to be richer and more fluid, one that results in a learning experience. The report is cast as an inquiring system.
Our Value Creation Story
There is a great deal to consider when placing and supporting an organic garden and a permaculture site analysis report can help you to make decisions. The aim of the report is to get the basic site analysis done efficiently and then to have people trained at permaculture visit the site to add to the report. My interest in doing the report is that I want to learn permaculture design techniques. I took a PDC (permaculture design certificate) course in 2017 and it helped me learn many concepts. This Radiant Bunny service constitutes my work toward being a permaculture apprenticeship.
My mission is make it easy for people to obtain a permaculture design site analysis report that makes specific recommendations for organic gardens that yield vegetables, herbs and flowers.
The service is an on-site consultation aimed at helping people grow their own organic food. This work constitutes my apprenticeship with the permaculture design process, during which I aim to produce designs for improving a given site's food growing biosystem. My approach is going to rely heavily on other permaculture designers with experience (and in this way, learn from them). Also, I aim to create extra value for clients by developing the documentation of the site design in the form of a website, one that hopefully allows clients and stakeholders to easily contemplate and manage the design work.
See also: Radiant Bunny Mission Statement